We are very excited to let you know that after two years of being postponed due to COVID-19 the Lake Taupo Cycle Challenge is BACK and taking place on Saturday 26 November 2022.
We're even more excited to let you know that we are a PARTNER CHARITY of the challenge again! What does that mean? It means that WE NEED YOU to bike for us.
There are challenges to suit everyone from a 16km leisurely lake side riding perfect for all the family to a 320km Round the Lake for the serious rider, there are gravel tracks, they also have Mountain Bike challenges too AND they even have a challenge for those of you with an E-Bike. You can read more about the challenge here: www.cyclechallenge.com
The sign-up process is very much the same as previous years. When you sign up there is now a drop-down menu for you to choose to 'ride and fundraise for your favourite charity' this is where you can choose Heart Kids NZ!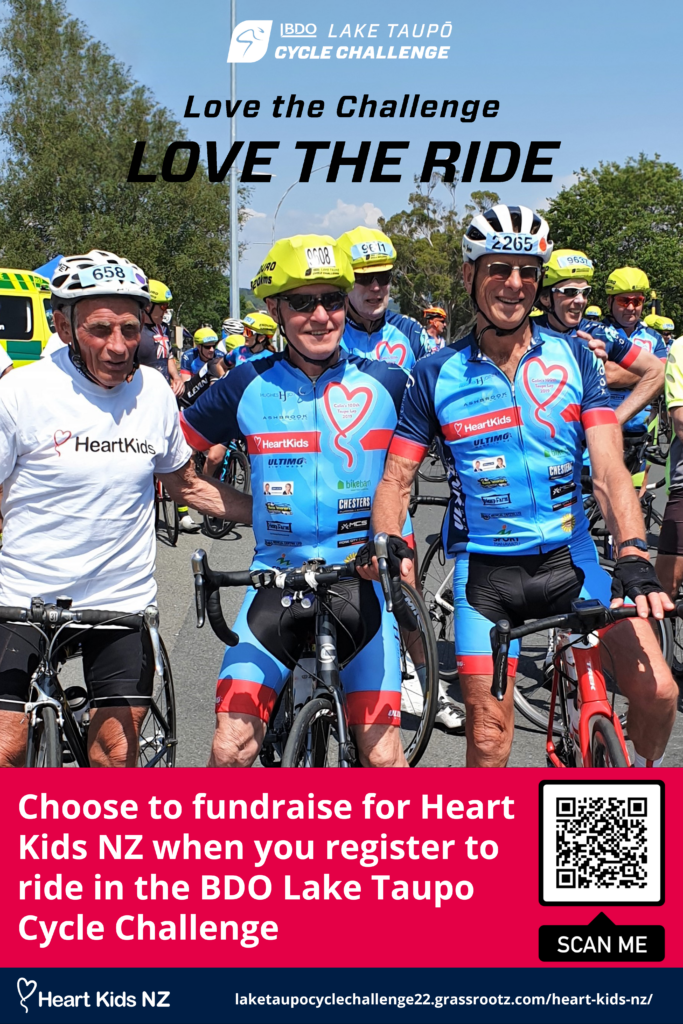 When you get to the end of your application, you'll then be prompted to either make a donation or set up a fundraising page. Make sure you set up a fundraising page so you can encourage people to donate towards your challenge. You can then donate to yourself via your fundraising page, a good way to kick start your fundraising!
The cycle challenge looks a little different this year, you can find out more information by heading here. There are some exciting new events like the e-bike and mountain bike challenge. They have also swapped some events out, including the beloved Kids Heart ride.
We still want those of you who were looking forward to taking part in the Kids Heart ride to get involved, so there are two options;
1. Take part as a family in the 16km Lakesider, a nice ride for the whole family
2. The BDO Lake Taupo Cycle Challenge team have created a 'kids pedal' which is a free to enter event – you just turn up on the day with your bikes and bike around the village green.
If your kids are going to take part in the free to enter ride, please let us know so we can be sure to cheer them on! If they would like to get fundraising, then you can set up a fundraising page for them here.
Workplaces and corporates, you can get involved too!
The BDO Lake Taupo Cycle Challenge is not only a fantastic individual challenge, but also the perfect challenge for your workplace to get into as well.
Get your workplace team together and make a weekend of it. Signing up is the same as if you were signing up as an individual but if you do need any support feel free to send our fundraising coordinator Alanah an email via fundraising@heartkids.org.nz
Ready to sign up?
We really want to have you on board this year. If you are ready to take the challenge then you can sign up to the challenge here.
For all of those that fundraise over $1000, you'll get yourself a cool Heart Kids NZ cycle shirt to wear on the day, so make sure you get started on your fundraising early!
Thank you in advance if you do sign up. The BDO Lake Taupo Cycle Challenge is an event we absolutely love, and we're really glad to have you on board again this year.