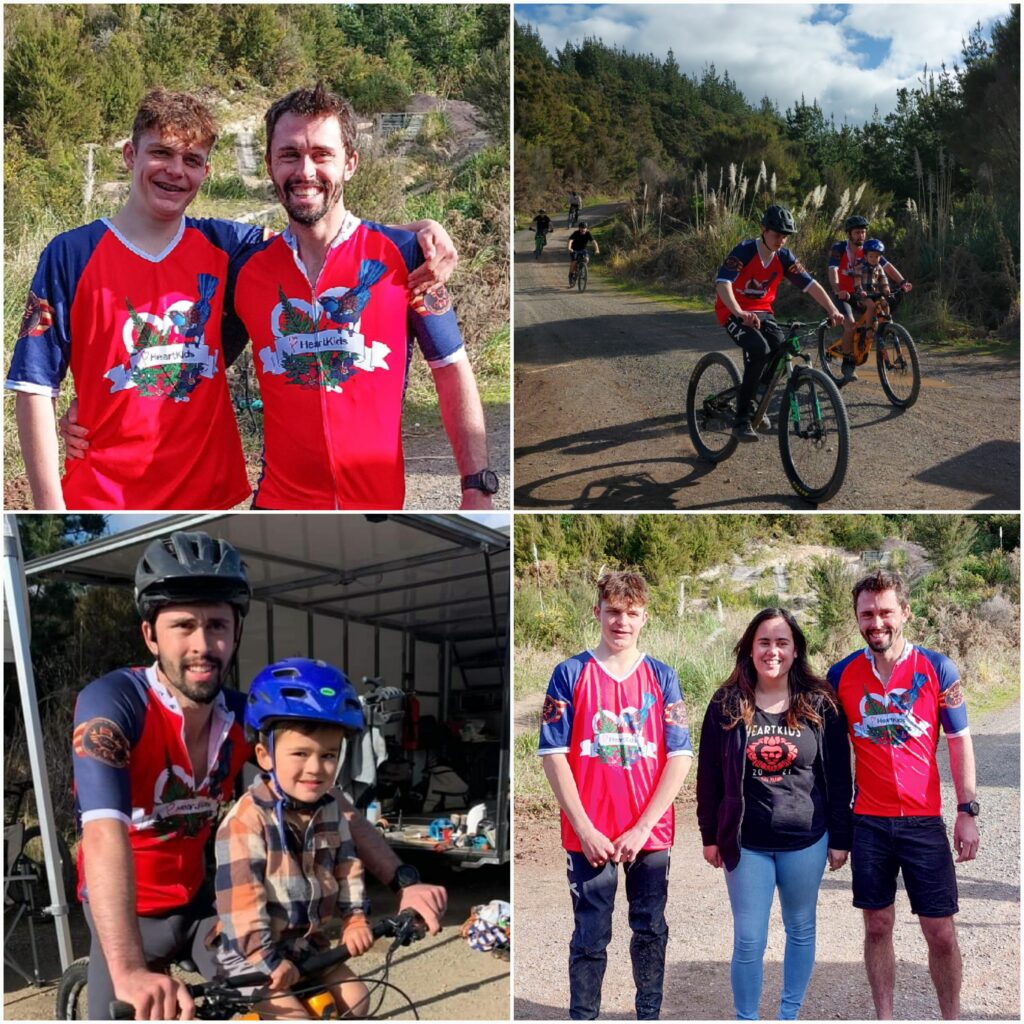 Whangarei friends Jayden Hudson-Owen and Michael Lea committed to biking the equivalent of the vertical height of Mount Everest (which works out to be about 9000 vertical metres and over 250km) to raise funds and awareness for Heart Kids NZ.
At 8pm on Friday 29 July the duo took off from their base camp at Parahaki Mountain Bike Park in Whangarei to start what would be over 15 hours of biking time.
Our fundraising coordinator Alanah headed up to Whangarei to support both Jayden and Michael alongside all their friends and families. The amount of support as always was stunning and Heart Kids NZ is humbled by this.
Jayden, 16, (an up-and-coming Mountain Biking superstar!) was the originator of the idea. When he spoke to Michael about the challenge, he was right on board too. Choosing Heart Kids NZ as their charity of choice was an easy decision as Michael is a heart dad to 3-year-old heart kid Archer. Archer joined dad on his bike for their last lap just after 2.30pm on Saturday 30 July – which was beautiful to see.
The final funds raised by the pair are yet to be confirmed. They have certainly exceeded their goal of $5,000, raising $7,461 so far thanks to the generosity of family, friends, supporters and even some of you – we recognized your names on the list of donations. A big thank you to everyone who supported them!
The final stats from the ride that Jayden and Michael completed:
Distance: 222.42kms
Elevation: 9,006m
Time: 15 hours 16 minutes and 23 seconds
Jayden and Michael, you two truly are Heart Heroes in our eyes, showing absolute selflessness by committing to the efforts you did over the weekend. Thank you for being such incredible champions for yourselves and for Heart Kids NZ – you should be so proud of yourselves.
You can read more about their amazing efforts here: https://www.nzherald.co.nz/northern-advocate/news/northland-mountain-bikers-raise-money-for-heart-kids-nz