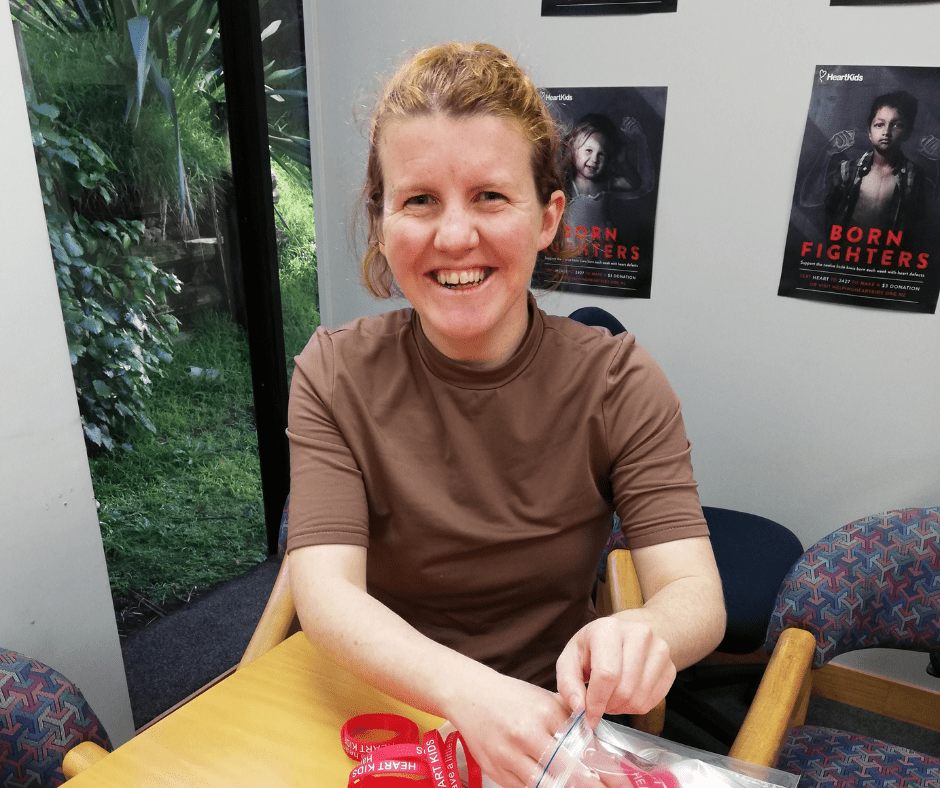 A true ambassador for Heart Kids NZ, Heather Fairley tells everyone she can about the organisation that's always been there for her.
"If I have my Heart Kids NZ bag and someone asks me about it, I tell them about Heart Kids NZ and what they do for children."
"I just try to get the message out there about all the good things they do and help where I can."
Heather was born in Huntly Hospital in 1987. From the beginning, her mother Natalia and late father Francis insisted something was wrong. The doctors disagreed, Heather says.
"They would tell Mum, a Panadol will fix it, there's nothing wrong with her. But Mum said, no no, something is definitely wrong."
Finally, when Heather was seven, doctors discovered she had seven holes in her heart. More tests at Greenlane Hospital revealed she had multiple ventricular septal defects and ventricular ectopy.
Although Heather had surgery to repair the holes in her heart, doctors also found she had Aicardi syndrome, which causes malformations in the brain, eyes and other parts of the body.
"Thanks to the specialist, hospital staff, my loving parents and my sisters I made it through my surgeries and medical hiccups along the way."
Her disabilities meant Heather was considered to have global developmental delay, an umbrella term that refers to a delay in cognitive and physical development. However, Heather has worked hard to gain skills and independence. She completed a skills course at UNITEC and has volunteered for several charities. At 21, she got her first job – a receptionist position with Heart Kids NZ.
"The CEO clicked his fingers and said, 'you're hired'," Heather says.
For two years, she answered phones, photocopied documents, and made tea and coffee. Like any job, there were challenges. Heather's colleagues helped her find workarounds for any stumbling blocks, she says. And eventually, she became an essential part of the office.
"People would say, 'oh, Heather will know how to fix it'."
Outside work, Heather loves dancing, singing and drawing — some of her artwork hangs in Auckland Hospitals' cardiology ward. Heather does volunteer work with charities like Youthline and has been a team leader at Coca-Cola Christmas in the Park.
She still has regular check-ups to ensure her heart condition remains stable.
"When you're a child you think, you'll be fixed, you'll be fine. You come to adulthood … you're still not fixed. That can be difficult."
Heather's disabilities mean she sometimes needs support, but she works hard to advocate for herself in her daily life as well as her heart journey.
"I have to be assertive. It's always a struggle, people underestimate me, or think I won't understand."
It's in these situations where Heart Kids NZ comes into bat, Heather says.
"When I can't speak for myself, a family support worker helps. Listening, advocating for me.
"When my mum can't come, my support worker will be the first to turn up at the hospital."
Having a friendly face and help to talk to the doctor is the kind of support Heather really appreciates from the Heart Kids NZ family support team.
"They're just the most amazing people; they're my family."