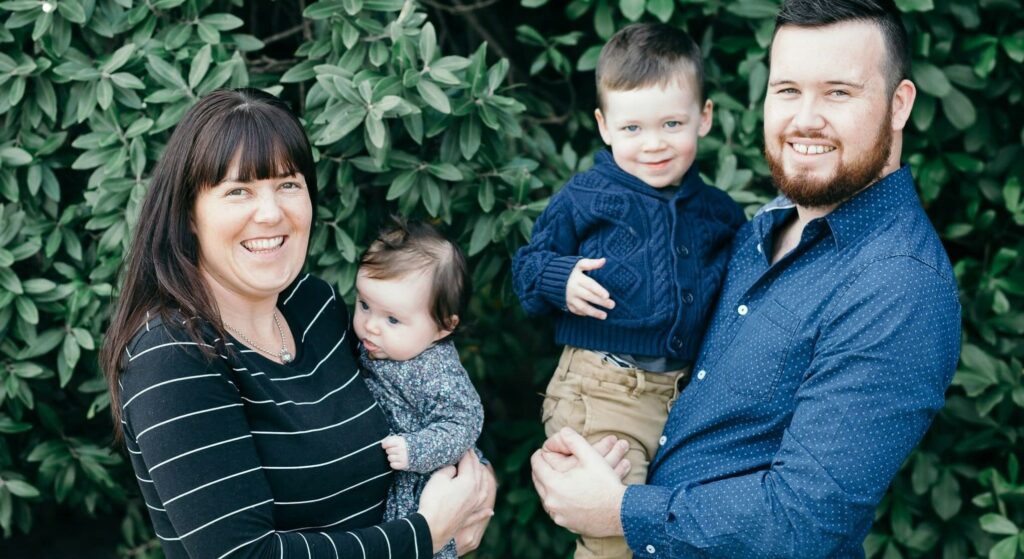 Heart mum Gillian Bax shares her special story about her heart child Lacey:
"Our daughter Lacey was born on the 31st of December at River Ridge Birthing Unit in Hamilton. After an uneventful delivery and a very quiet New Year's Eve, we went home on the 1st of January. Lacey was perfect; she fed and slept just like a newborn should. Blissfully unaware, we returned to our beach holiday in Pauanui and then on to Matarangi with our families.
On the 17th of January, our midwife visited for a routine check up. Lacey had passed her previous checks with flying colours. Our midwife walked in the door, I was holding Lacey, and the first thing she said was: 'Does Lacey look slightly blue to you?' I was in absolute shock.
From there, our midwife spoke to a Waikato paediatrician and I whisked Lacey off to Thames Emergency Department while our midwife stayed with our son, 2-year-old Caleb, who was asleep at the time.
Everything is somewhat of a blur from that moment. We spent a few hours in Thames ED before being helicoptered to Waikato NICU. Lacey deteriorated rapidly and was intubated and ventilated from 11pm that night. Starship sent their retrieval team to get us and we left Waikato at 6am in another helicopter.
A huge team was waiting for us in Starship and Lacey was just holding on. She was diagnosed with Total Anomalous Pulmonary Venous Drainage and required emergency surgery. I vividly remember our surgeon telling us that Lacey had a congenital heart defect and required emergency surgery and that, as we were speaking, that's what they were prepping her for. I said some pretty choice words and begged the surgeon not to let our baby die.
Lacey underwent emergency surgery less than 24 hours after our midwife visit. That day was the hardest of our lives. Following surgery, Lacey had a tough recovery. She remained on ECMO for 5 days post op, developed chylothorax (so could no longer tolerate breastmilk) and pneumothorax.
We eventually made it to ward 23B where her recovery did not go well.
One month after her first surgery, Lacey had a second open-heart surgery to tie off a big descending vein and widen the new connection to her left atrium. After her second surgery, her recovery was bumpy with another pneumothorax and a wound infection. She went through pretty much every complication in the book!
But on the 6th of March – after 7 long weeks – we got to take our recovered, breastfed (yay!) and beautifully pink baby home.
Lacey is now 11 months old and an absolute delight. She is full of smiles and giggles, has a huge mop of unruly dark hair and is thriving. Since Starship, she hasn't looked back. Her cardiac check ups have been great and we don't anticipate that she will require any further surgery.
We couldn't have done it alone.
We have amazing family support; our parents stepped in to care for Caleb, and our friends and workplaces rallied support for us. The staff at Starship PICU, 23B and Heart Kids NZ was overwhelmingly caring, compassionate and generous.
Heart Kids NZ are still there for our family; we get phone calls for catch-up chats and join into our local Thames coffee group. This was not a club we wanted to be a part of but we are so grateful that we are.