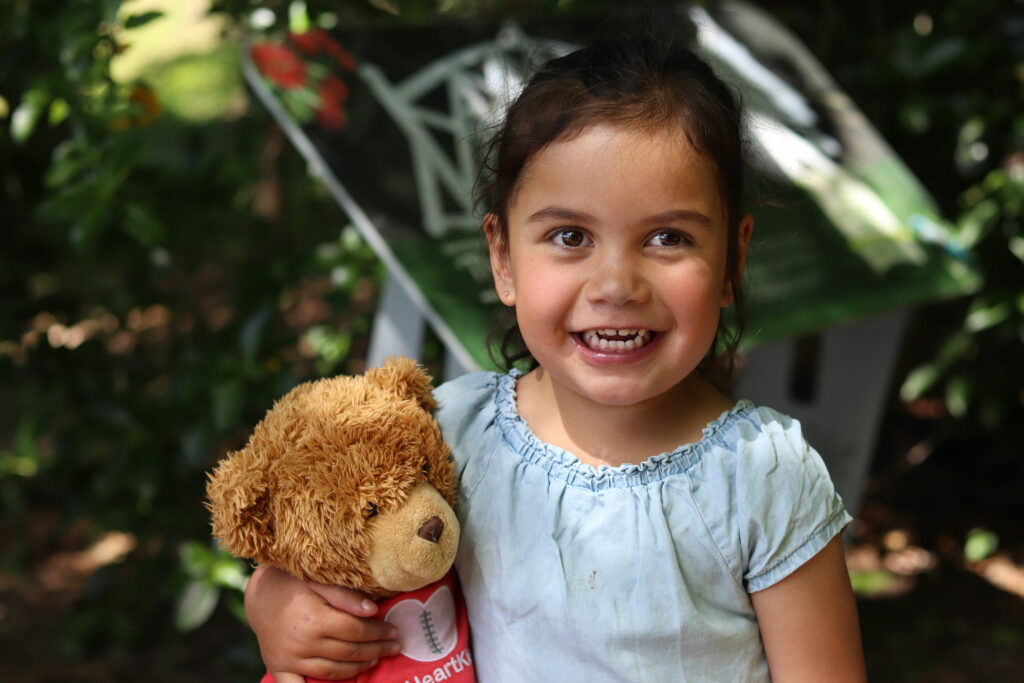 Aria and her mum Falcon have a bedtime ritual.
At Falcon's prompt of "I'm", Aria recites: "I'm brave, I'm strong, I'm beautiful, I'm wonderful, I'm tired. I'm Aria, and I'm four'."
It's a way to anchor the little girl, whatever's going on in her life, Falcon says.
Falcon was pregnant when she discovered her unborn baby had a congenital heart condition. Living in Te Puke, she and her partner were told to prepare themselves for a move to Auckland, to be closer to the hospital, where Falcon would need to give birth.
"It was too much for two country kids," Falcon says. "We didn't know anything, or anyone. There was no one to ask: what do we need, what do we do? It was scary, terrifying."
When Aria was born, Falcon had five minutes' precious skin-to-skin time with her new baby. Then, Aria was whisked away for treatment.
The tiny baby had just one ventricle pumping blood to her heart. She also had tricuspid and pulmonary atresia, which meant some valves weren't developed, and others weren't where they should be.
The days following Aria's birth were a blur of information and worry, Falcon says. The tiny baby had a battery of tests to find out if she was eligible for heart surgery. One doctor told Falcon there was a possibility they might not be able to operate on her daughter.
"He said, we could take her home and see how long she lived for," Falcon said.
"You just keep going. Fight it and see what happens."

Falcon Smith
Fortunately, tests revealed she was eligible for surgery, and when Aria was 11 days old she endured a six-hour procedure to insert a shunt into her heart.
Over the next few months, Aria went through three more surgeries.
"To look back on what we went through in eight months, it was really difficult," Falcon says. "But you just keep going. Fight it and see what happens."
Throughout her journey, Heart Kids NZ support workers have walked alongside the family. Falcon remembers Katya, who turned up each morning with a hot chocolate and a caramel slice.
Support workers would pop in with coffee vouchers, or grocery vouchers. Sometimes, they'd gently encourage Falcon away for some fresh air, taking her place at Aria's bedside to read to the baby.
"Heart Kids NZ helped us from the start," Falcon says. "Someone was always there, to give us some support and help us through that day or week."
Aria's heart journey is not quite over. Recently, a cardiac catheterisation to check the passage of the blood around her body revealed her blood is moving to her liver and lungs first, not to her heart.
This could mean more treatment before a Fontan procedure that will redirect the flow of blood from her lower body to her lungs.
While chatty and outgoing Aria loves the hospital – the friendly nurses, the familiar support workers – Falcon is bracing herself for the months ahead.
But there's comfort in knowing she won't be alone.
"I will always be grateful for Heart Kids NZ. I don't know what we would have done without them."